Day 6: Sapporo to Asahidake
Bit of a sleep in this morning to try and stay ahead of the slight cough I've picked up; it appeared to work and I felt a lot better. 10am and I was off on another adventure. First stop was the river to watch the fish for a bit. My goodness they're big! And they move like 10,000 ton submarines too: slowly and ominously.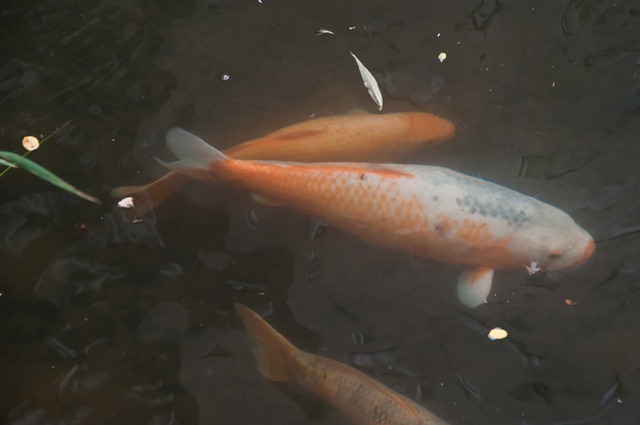 Note the size of the leaf floating past…
Down to the station again and snapped a picture of a Furico 283 ; JR Hokkaido seem to give most of their flagship trains quite cool names, and usually in "romanji", i.e. romanisced Japanese.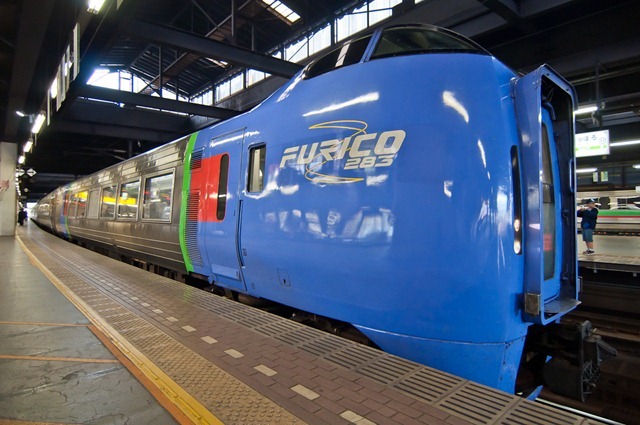 I was actually on a Super Kamui (ka-mu-i) again, and as usual it was a very quick, quiet and smooth ride. At Asahikawa I did a good job of working out where to wait for my bus and it soon arrived and all five of us filed on. I was a bit confused why no one paid and when I hesitated the driver smiled and waved me on. Well, if he insisted…
Off we drove and I was soon perplexed by the little chime, ding, and then automated voice announcement, seemingly at random. There was also a sign by the driver with numbers, Japanese writing, and what appeared to be prices, but I couldn't work out why when the trip was 1320 yen, the largest amount on the sign was only 200 yen. It only took me about 3 hours to work it out; each time the little voice talks, it is announcing a stop. When you hop on the bus you get a number and when you get off, you just pay the amount next to your number. And at each stop, the prices all bump along by one. Genius.
Other perplexing thing was a power pole with half a dozen little anemometers spinning around, one on top of each insulator. Goodness knows why.
A couple of hours later and we were growling our way up to Asahidake National Park. All the way to the top I went and then paid the fairly steep ropeway entrance fee (think it was $10-15 each way for what was only a 10 minute ride). Few minuntes later and my ride arrived.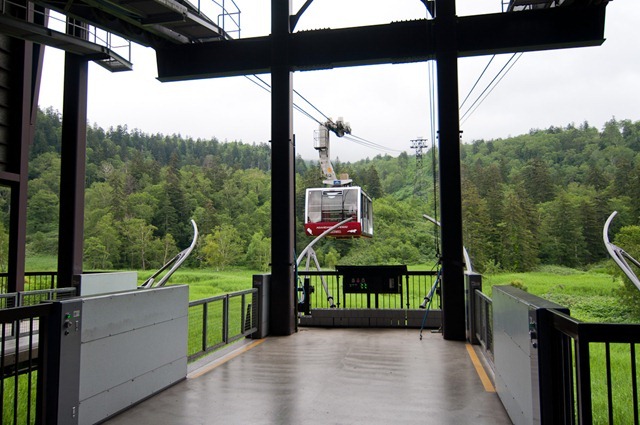 A couple of us boarded and off we went. At first there was lots of forest with all sorts of trees…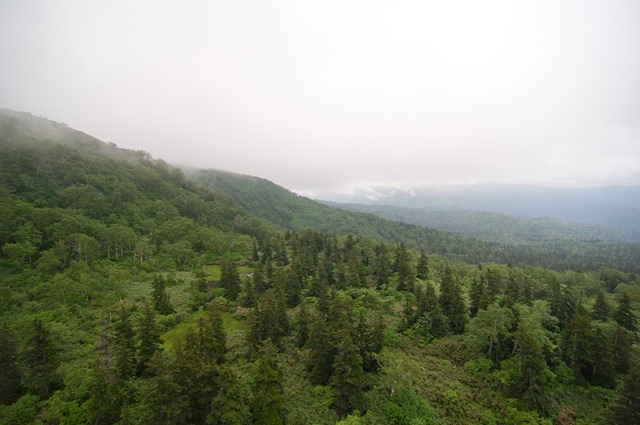 And then suddenly things went very eerie…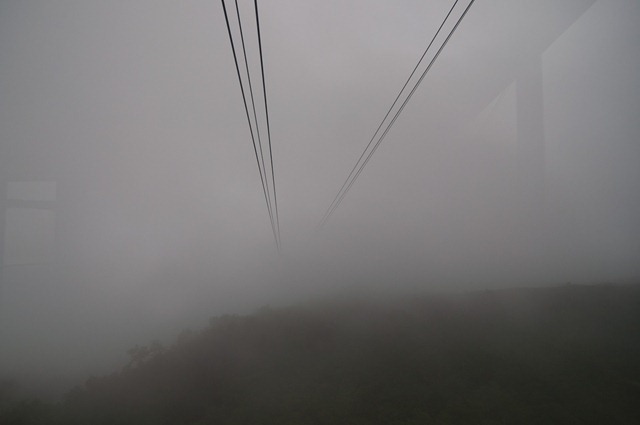 At the top I emerged into a very surreal world, full of fog and alpine flora.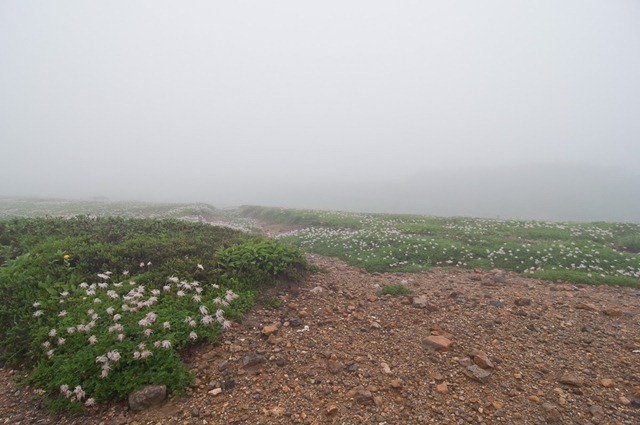 There was a loop track so I headed off on that.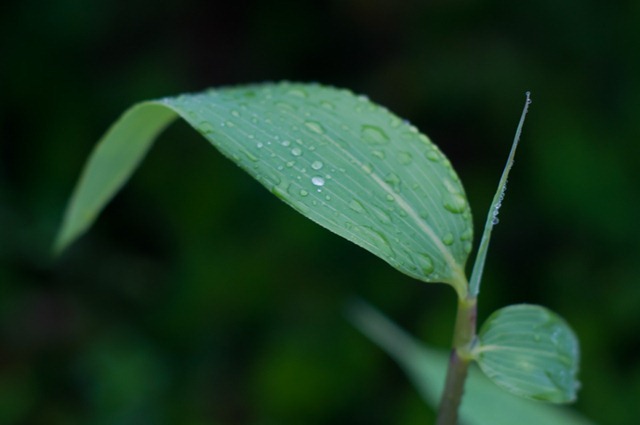 There were a few "do not" signs, and most were obvious, but there was a "no cameras on tripods" rule; I don't especially understand why. Maybe it means no commercial photography? Or maybe it's to prevent tripod traffic jams? The view from the viewpoint was a little… well I'm not sure a tripod would've helped today!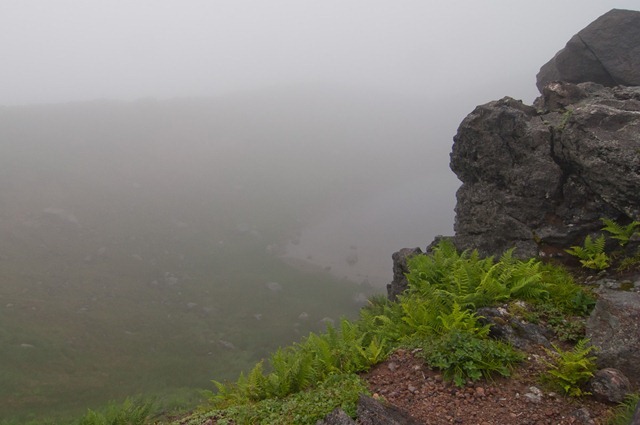 It was rather fun watching people appear out of the fog. At one point I thought I could hear a generator and thought that was a bit sad, why have a noisy great gas generator up here in the middle of a wonderland!? And was I already back at the start? Gosh I walk too fast. Then I found a map… no, I was no where near the ropeway; what I could hear were sulphurous vents busy, well, venting! Of course steam in the middle of a cloud, naturally I couldn't see anything.
Around another corner I came across a field of bamboo rustling in the wind. Wow it was serene! Although I half expected to see the bamboo parting as some kind of high altitude bamboo monster spied its next victim and came to eat me… guess I've watched too much Jurassic Park.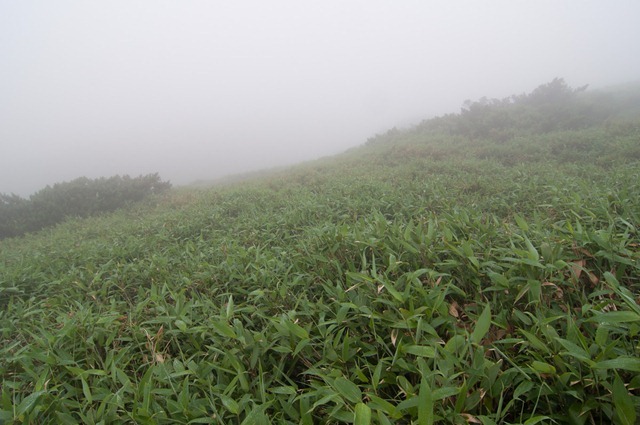 Around another corner I found an emergency-use-only shelter. It was very well made, could easily have withstood a yeti attack. And even more impressive, it had a ladder up to a very nice little attic, with lots of room for sleeping.
I was almost back at the end when I spied an alien probe hiding in the fog; yikes! Had Darth Vadar sent out drones to search this distant national park for signs of the Rebel Alliance?! Luckily it was just a comms tower, or so it appeared.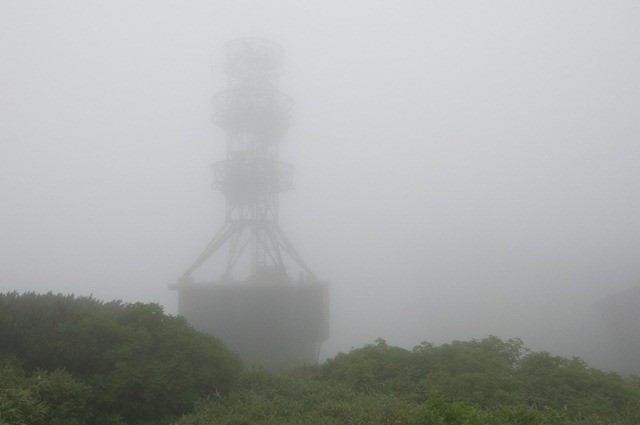 In between focusing and explosing this photo the heavens opened up and in the 30 seconds it took me to get back to the ropeway building, the rain had started coming down so heavily that it was making little waterfalls off the corrugated iron! And yet at the bottom of the ropeway it was dry. I was quite impressed to see the snow gauge at the top ropeway house went up to 5.0m!!!
I decided to see what the bush walks at the bottom were like, but 5 footsteps in and there was already a thick cloud of extremely hungry mozzies around me. I ran back out and they followed me, they even managed to get me through my socks! My normally extremely effective leg hair did nothing to stop them; if anything it probably cushioned them as they nose-dived into me!
I stroled down the road to the Asahidake Spa and debated whether I would or not. I only had an hour and a bit, and the Japanese bathing process is a "little" different to what us westerners are used to. For a start it's done naked. I decided that I'd come this far, and even if I had to rush things a little this might be the only chance I got in such an amazing setting. Besides it was that or walk back up the hill again. I dug out my Kindle and had a quick brush-up on onsen-protocol.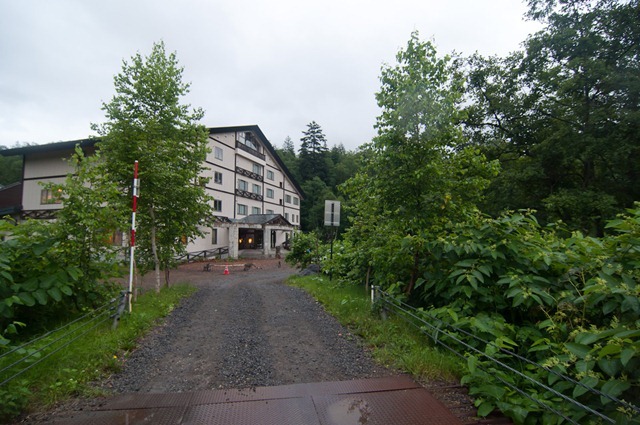 I wandered down the driveway to the spa building. It was a little uninspiring, though I'm sure when there is 5m of snow it would be something else again. All the signage was in Japanese, not even romanji, so I had no idea if I was in the right place or not, (and I didn't recognise the usual spa kanji) but a quick "Asahidake onsen?" to the lady at the door got an affirmative. I paid my 600 yen at what looked like a hotel lobby, and followed the direction the clerk indicated. Numerous little passageways, stairs, lefts and rights and I was beginning to wonder if I was in the right place or not! Then I came to the gender split and was about to really start regretting not memorizing the "male" and "female" kanji, but luckily the boy's room had a blue curtain and a guy was doing up his shoes next to it. I went in, put my stuff in a locker, took a basket and undressed. I slid open the door and went into the male half of the spa and sat down on a stool at one of the wash stations. They had little taps, shower heads, and ample soap and shampoo. As protocol dictated I washed thoroughly, scrubbed everything, washed again, and rinsed off every last bubble. Suddenly I realised that in direct violation of the first law of intergalactic hitchhiking, I did not have my towel with me! A well prepared galactic hitchhiker always knows where his towel is! I had a bit of a chuckle that I was remember Douglas Adams quotes; it was a bit late to go back and get my towel, and they're not especially essential anyway.
I finished washing and headed over to the first pool. It seemed pretty quiet and there were only a couple of Japanese men in the pools. I took a bowl and poured some of water from the pool over me, but it wasn't as hot as I'm used to so I just climbed straight in. It was only half a metre deep but I had a good soak. Then onto the next pool; bit hotter, bit deeper, soaked a bit longer. Then I moved to the outside pool which was a bit hotter again and a good depth. I lay there for quite a while watching the rain pour down on the forest around me. Very relaxing!
A while later I was starting to overheat a wee bit, so worked my way back through the pools, had a quick rinse with some nice cool water and then back to the changing room. Acquired my towel and was soon off on my way again. Onsen: done! Felt pretty good to have conquored that, and to be honest it wasn't as weird bathing naked in a room of guys as I thought it would be. Probably helps that I know I'll never see any of them again, but still; us Westerners can be a bit prudish about such things.
The stream on the way out was quite amazing…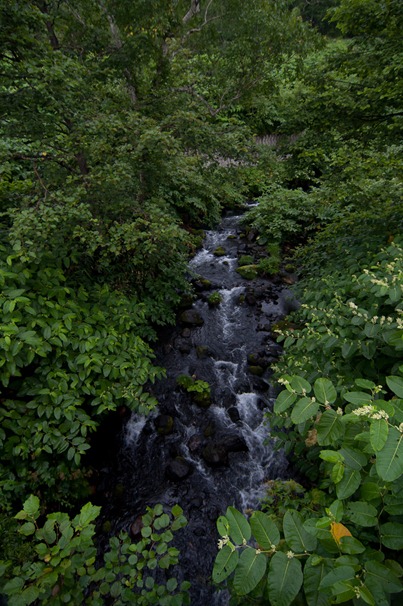 Then it was back on the bus and back to Asahikawa. The bus got in a couple of minutes late and so I missed my train, however the fence around some construction works was very cute…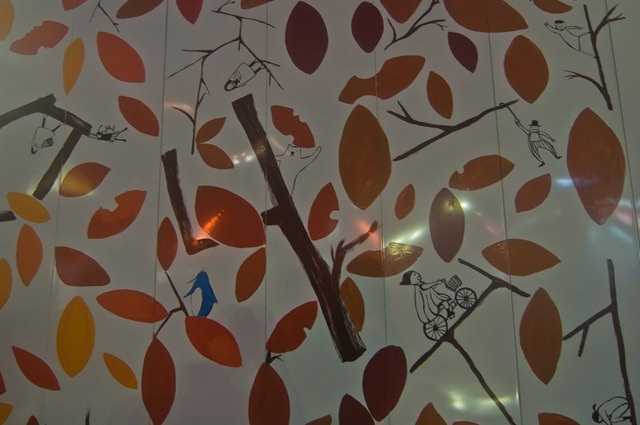 It said "thank you" in very "twiggy" letters, and there were lots of colourful leaves and little people (and a penguin) doing things on them. The "danger, keep out" barriers around construction sites here have a penguin, a seal, and a whale, sitting on the ice smiling and saying "One moment please". The cutest thing yet I've seen though is the zoo train; it has animals painted on it, each carriage is a different colour, and the seats are all wearing little animal constumes on their "heads". It looks very cute when you zoom past it at the station and see all the little kids sitting in chairs with ears and eyes and stripes! And some of the carriages have polar bear chairs at the end which are entire chairs shaped like animals! Secretly I wanted to go for a ride on it but my schedule didn't match up.
Anyway I missed my train and needed food so went for a wander. They have a long main street and I found a few fast food places but nothing amazing. Then I hit the jackpot: an underground Japanese kebab house! I was immediately made very welcome and this time I knew how to use the door-bell-waitress-buzzer so service was no problem. I was sitting at the "one person" tables next to the kitchen and it was quite something watching them cook it all. The best part was when someone hit the buzzer though: immediately the chef would yell out something like "itchy-boss!" and everyone else in the kitchen would join in too. So "ding dong" "itchy boss!" "ITCHY BOSS!!" and a whole 5 seconds later a waitress would be there! I loved it, even if I didn't understand any of it. (My cultural advisor says it's "ikimasu" (the u is silent) and it means "I'm coming" which makes sense.)
They had an amazingly illustrated full colour menu where everything looked delicious, but the 4-kebab platter was calling my name so I ordered that and some wedges. One of the few english phrases was "free drinks menu" with a buch of colourful things under it. I had fun pointing to something unintelligable and seeing what it was. After a couple of sips of my first concoction I was pretty sure the "free drinks" were alcoholic! Whoppee!
Kebabs arrived and I hungrily devoured them. One was not quite so nice, it had a weird texture like liver, but rest were all mega-yum. I had to have more! And more free drinks! And then desert, which was ice cream on a waffle that was still sizzling because the plate was so hot! My only complaint of the night was that I once got an English speaking waiter who told me what it was I was ordering, kind of took the fun out of it!
Eventually I had to make tracks, having already missed the second train home. I wasn't especially surprised when the "free drinks" were actually 200 yen ($3) each, I suspect it was only the very top part of the "free drinks menu" that was actually free. For $3 coctails they were extremely good, almost worth making a trek to Asahikawa for.
I dragged myself back to the train and made it this time. Super Kamui back to Sapporo, this time the jingle on the late night train was a little wind up music box slowly running out of omph; very cute and fitting. Subway and short lazy walk along the river back to the hotel. Had a few problems checking in because I had already paid but didn't have a room key. Eventually we sorted it and the very apologetic staff gave me a few bottle of chilled water :-)
What a day!