Day 5: Sapporo and a trip on the Lavender train
As dawn broke we started skirting through numerous concrete jungles and a dense fog gave everything the same washed out gray colour. Not the most pleasant scene to awake to and I wondered what I was in for. At just after 6:00am we arrived in Sapporo and we filed off the train. I have never seen so many zombies before! I stood around dazed for a while, barely even remembering to snap a photo of our train. I felt like death warmed up! The toilets were a popular spot and there was a constant stream of people brushing their teeth and trying to wake up.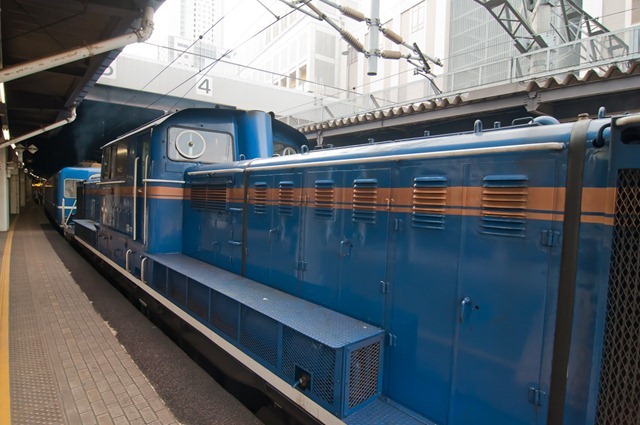 I had a wander around the station and was sad to see even Mr Donut wasn't awake yet, nor the travel centre. I saw some posters for the Furano Biei Nokkoro Train which I had previously heard about so decided that would be a good escape from the gray haze that eveloped Sapporo. Off to the JR Seat Reservation desk and pointed to Nokkoro train on the flier I'd picked up. To his credit the guy did a great job working out how to get me there and back again and 4 tickets later and numerous circles around place names I couldn't read, I was ready to go!
First though I had to find somewhere to sleep since I wouldn't be back till quite late. I wandered around looking for some free wifi but there was nothing . Then I found an internet cafe so went in there. Wow culture shock! First up I had to register, then they wanted an address and passport as proof. Then I got a card and allocated a PC in a booth. With my pack on I actually had trouble getting through the booth door and it took some very careful wriggling to get myself into the chair and in front of the computer. The keyboard was Japanese/English with things like the @ key in the wrong place, and all the labels on the screen were wrong, but I managed to book a nice cheap room, and they also had free beverages. I finished and sprinted back to the station just in time to catch the Furano Lavender Express.
A weird train, run by the "Crystal Express" train which has big windows and every carriage is a bit different. The driver sits in the little pod up top.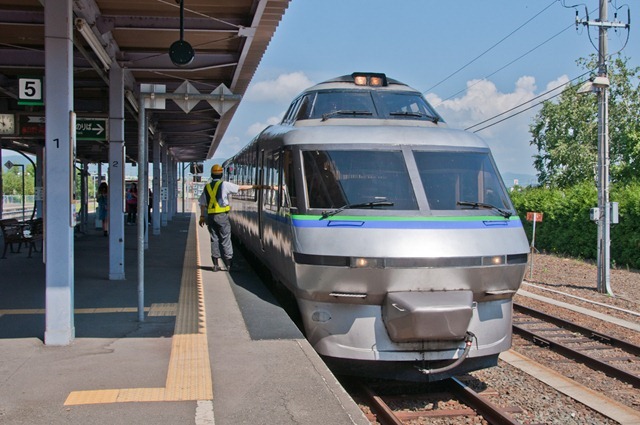 Inside it is very nice though, with acres of leg room again, massive seats that you sink into, and a rather cool lounge area in the top half of the second carriage.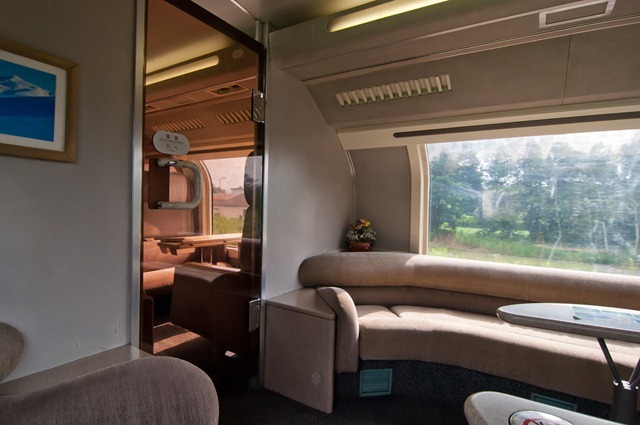 I got rather bored of my allocated seat so went and lounged in the lounge and had it mostly to my self the whole trip. Plus the engine was right under my allocated seat and the driver kept missing the gear changes (it appeared to have a manual transmission?!) and going from 3rd to 4th gear he would always miss and rev the engine like crazy before finally finding it, by which time the train had lost speed and when he let the clutch out the poor thing shuddered and groaned and then slowly picked up speed. It was a bit frustrating! Out in the lounge I was blissfully unaware of his creative gear changing styles.
Going along I met many different line-side vege patches. Here are a few…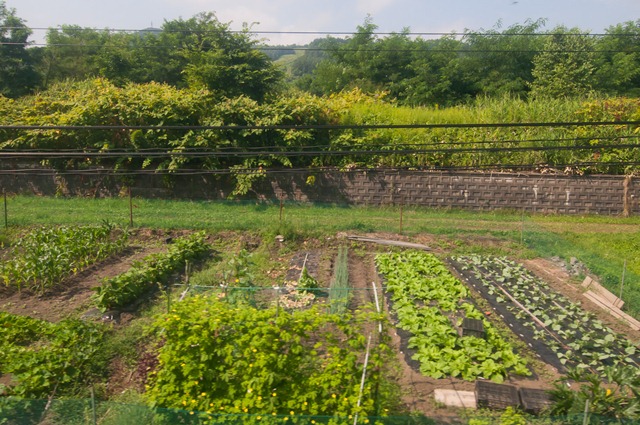 Off in the distance I spied a massive statue, towering over the town below it. It's a bad photo but note how it dwarfs the bridge some distance in front of it…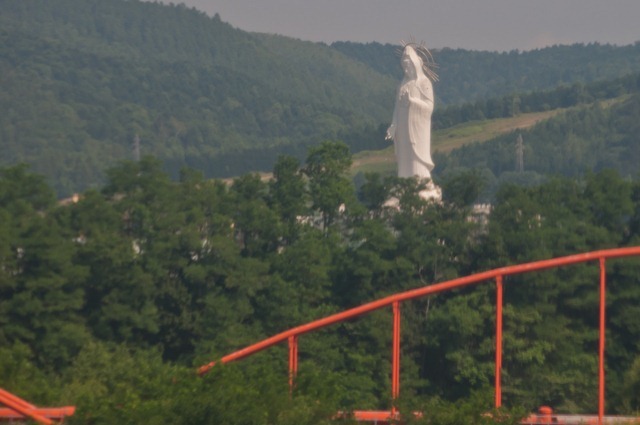 I'm not sure what it is. It looks a wee bit like the Statue of Liberty, wearing a komono? The other thing that struck me was how NZ-like the distant mountains looked.
Further along and this could be any farm in NZ, except there are no sheep, and Fontera probably don't accept rice milk…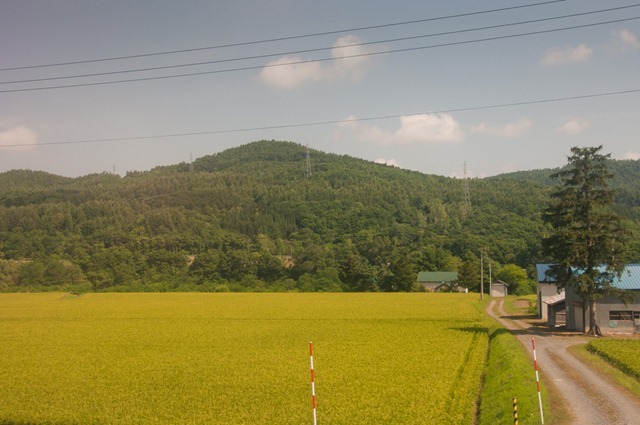 At Furano I spied a little wee single-carriage commuter train.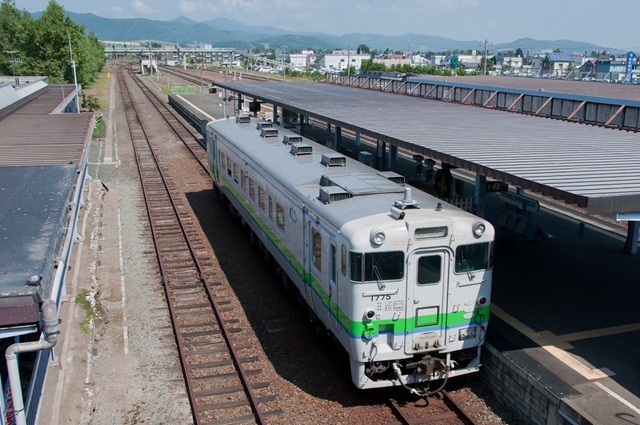 Things were positively sleepy here. I had a few hours to kill so went for a walk around the town. First on the menu was breakfast and it took quite a while to find. I started getting frustrated when I could find new laptops, but not a single open cafe/restaurant/convenience store/fastfood joint! I noted that the local Beaurepairs branch appeared to only sell bicycle tyres. Eventually I found my place and did the tried and true point-and-nod and soon I was having a (honestly) delicious burger for breakfast.
Refreshed I continued wandering around. First up the ever present corner convenience store, usually a "7 eleven".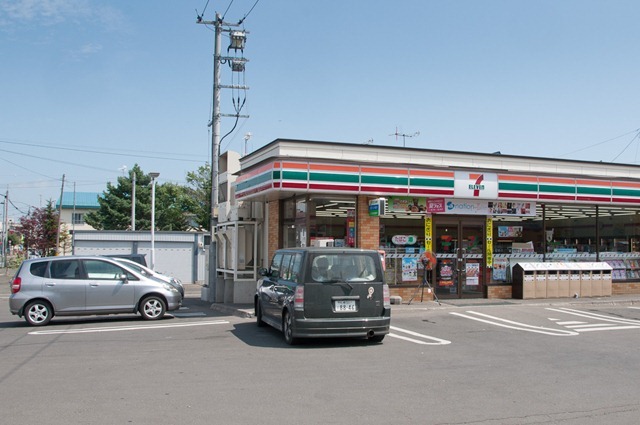 Across the road and an empty section is rapidly being reclaimed by the weeds…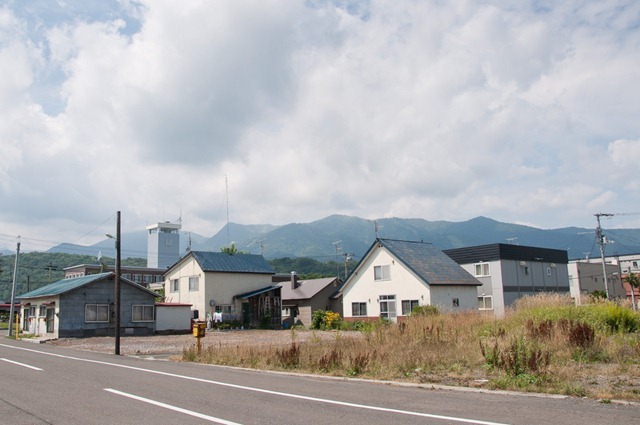 KFC exists here, but not as we know it. Also the power cables appear to be breeding up there…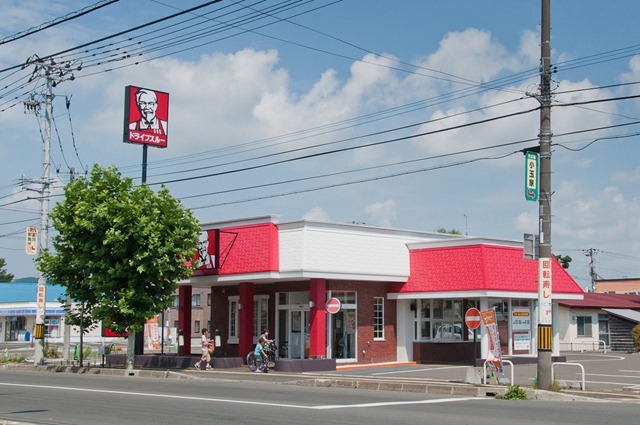 A fire hydrant ("fire cistern" as I saw it labeled today) has a carefully bent sign, and the local hospital has some carefully pruned trees…
Across the road and the crazy wires continue, also notice how every house has a tank outside. I haven't worked out what for yet (it's not gas I know that much).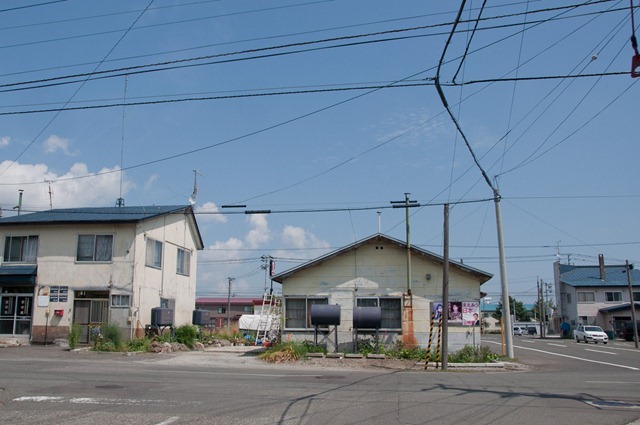 I saw plenty of signs that it snows here, such as the snow shovel inside the front porch of a copy centre, or the snow brush next to the mysterious tanks. Despite the obvious snow, everyone still had vigorous vege patches, sometimes a little hidden like this one where it looks like they can't hang out the washing until they harvest their corn.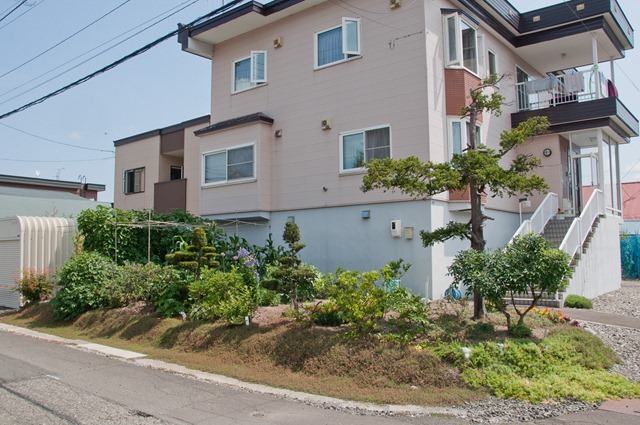 This store has 6 vending machines outside it…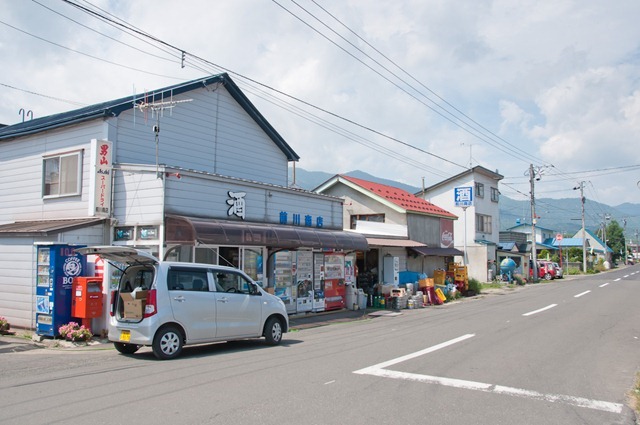 The ever popular bicycles…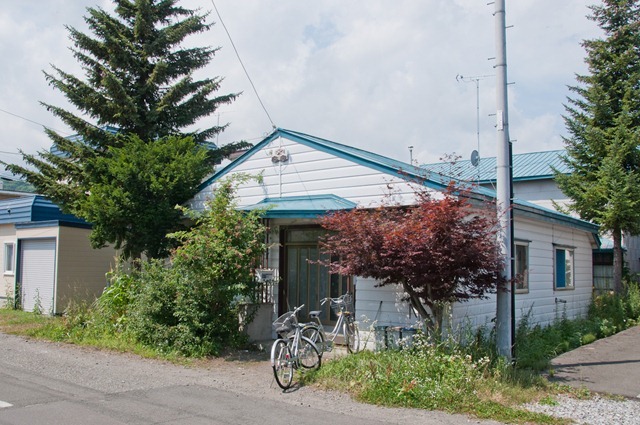 The ring road has ginkgo trees lining it…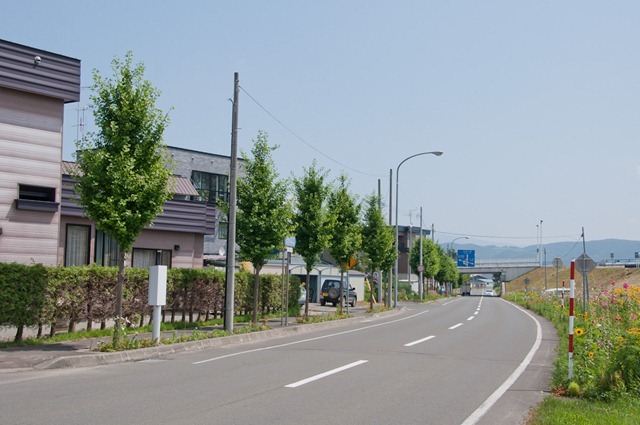 Up on the stop bank by the river I was amazed at how very very West Coast it looked, except there were hundreds of dragonflies circling here, you can see a few in the photo…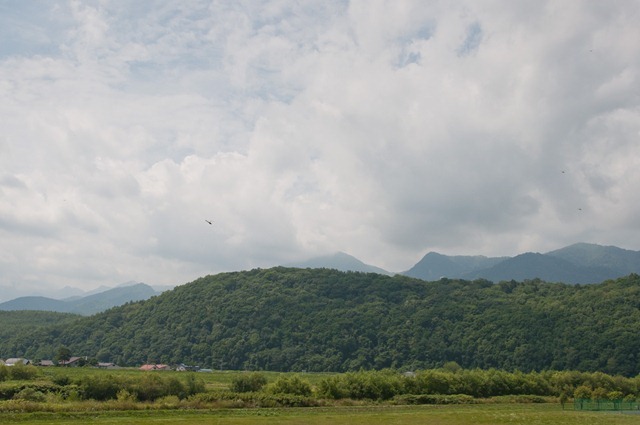 Another side street had an amazing pine tree…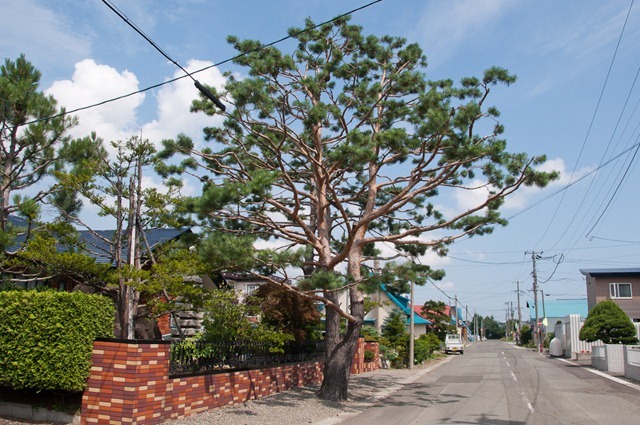 … and all of these were within a couple of blocks! I still had a few hours to kill so sat down under a shady tree in the park.
Soon enough it was time to catch the Furano Biei Norokko Train, a bit of a mouthfall, but "norokko" means "open carriage" and this is an extra special lavender train with open carriages to let you truly enjoy the scenery and fresh air.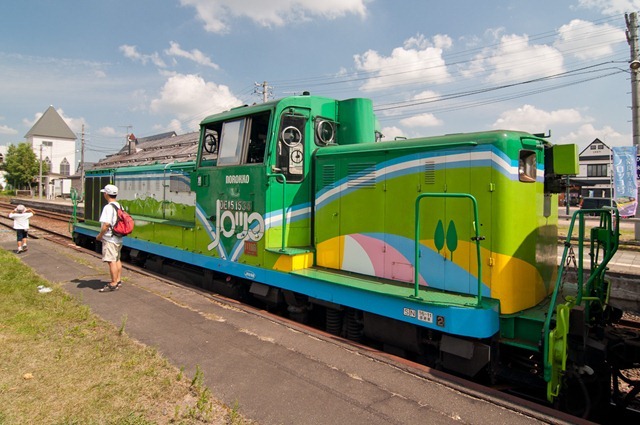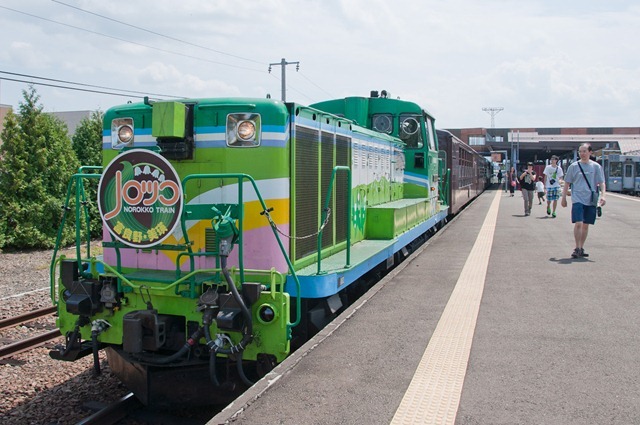 While I didn't see a whole lot of lavender (think it had all been harvested), the views were still stunning…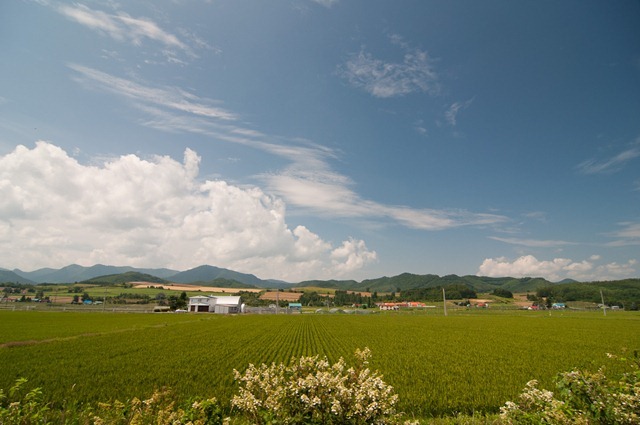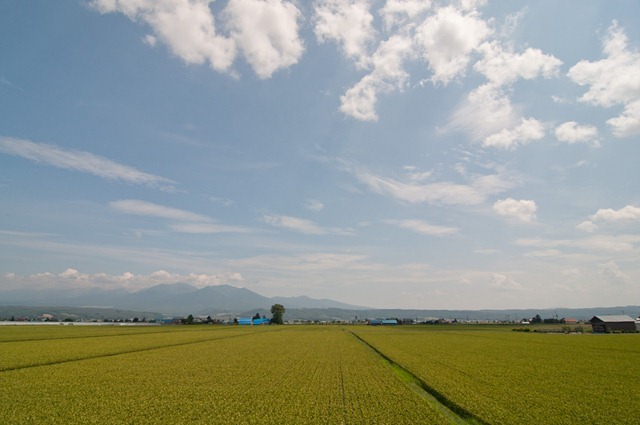 I even saw an American-style barn…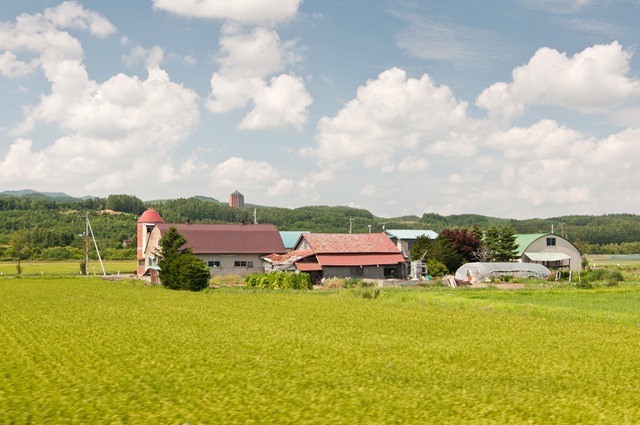 Here half the train is getting off, and they all pose for photos against the loco. Note the "winterisation" of the station, with big wooden "things" secured to the roof; I can only assume this is to stop snow sliding off the roof and onto unsuspecting passengers. They think of everything here! Another station had a ladder onto the roof and a handrail along the top, I guess so they can dig off the snow if they need to.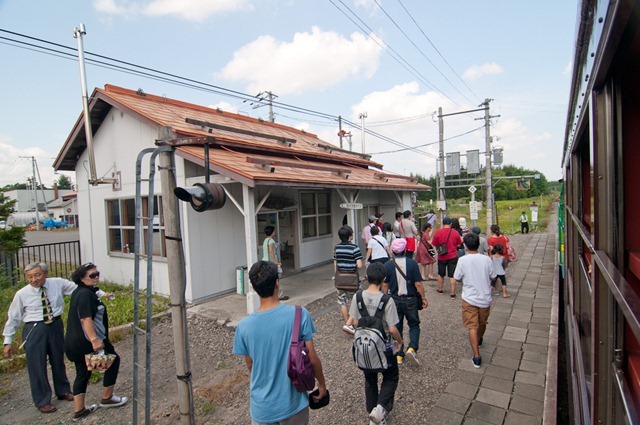 The siding meanwhile doesn't appear to get much use…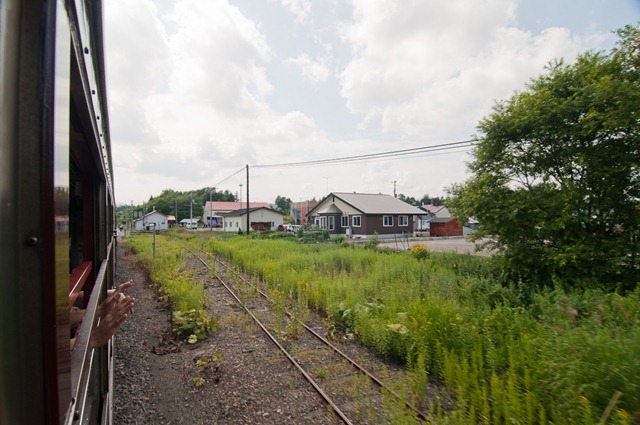 We soon arrived at Biei, another hot and quiet town.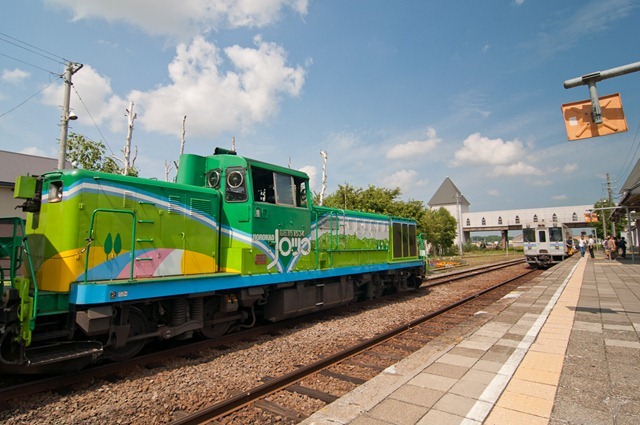 I had another long wait here so went and got some lunch; was unimpressed that my ice cream melted faster than I could eat it and made quite a mess. I found a nice shady patch in the local park and had a bit of a doze.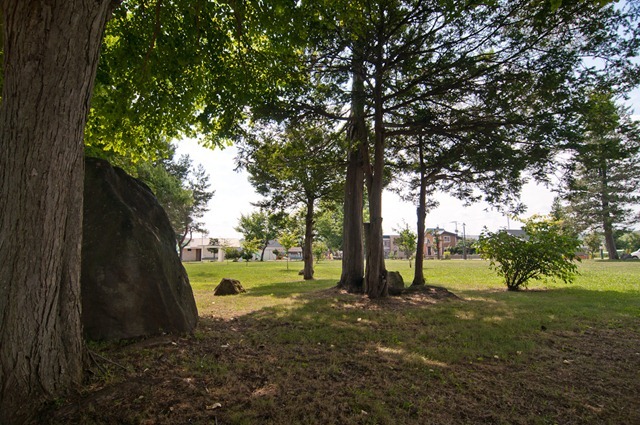 I got bored of waiting and caught a tin can back to Asahikawa.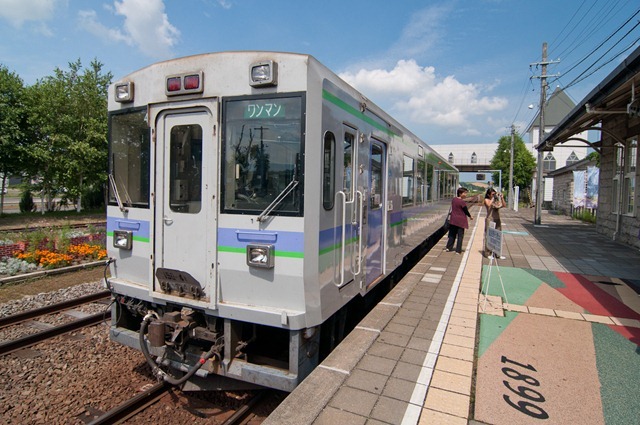 The train was pretty full, it is only a single carriage after all. It is a lot like a bus on tracks really, maybe a bus with two cabs.
At Asahikawa there were lots of interesting trains. I can't remember what one I caught, but it was a Super Kamui express that cruises along at 120kmh on regular old narrow gauge track! It feels really good flying past all the cars on the road!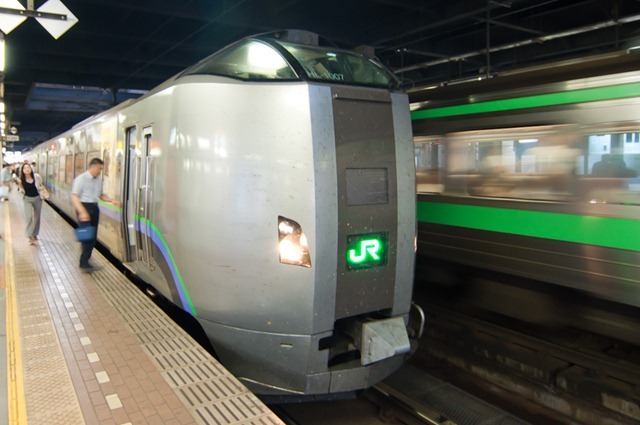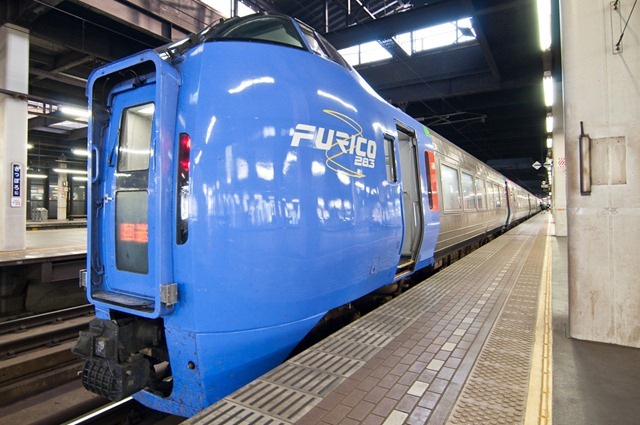 Nice quick trip back to Sapporo, only an hour and a bit. Back in Sapporo I found the subway and joined the hundreds of other commuters. Our "train" arrived (I later discovered it runs on rubber wheels but has a central guide rail as well so not sure what to call it). Boarded, enjoyed the square-wave door closing chime and was almost thrown the length of the carriage as we rockets off! Things things can accellerate! Station-to-station speed is 70kmh and there is no air conditioning, but the breeze through the carriage at that kind of speed is magnificent!
I followed my carefully noted hotel directions and soon found the river to walk along and just as I was about to discover the hotel I noticed the fish in the river… wow they're big! Great big goldfish half a metre in length! And dozens of them, just lazing around in the river! Quite something.
Got my hotel room and was straight into the shower. Toilet once again had a control panel, and in fact the whole bathroom appeared to be a very compact one piece plastic molding. The view from the window was great, on the 9th floor I could still see the koi quite clearly down in the stream. I also had a wonderful massive big fluffy pillow, something I could wait to get my head into :-)
So from fairly grave beginnings it turned into a wonderful day, and it was great to get some fresh air out in the countryside, see some of small town Japan, and escape the steaming sweat bath that Tokyo was!